If you are being treated for anxiety, depression or other mental health disorders you may qualify for an emotional support animal.  We list 3 steps of the proper way to request a reasonable accommodation of an emotional support animal below. Read further for other information.

*

What is an Emotional Support Animal (ESA)? Click HERE to find out
*Click here for the THREE ACTION STEPS to follow for your best chance to get your ESA approved
Print a copy of our tri-fold ESA brochure.


Need a lawyer with experience in pet cases? Contact us for a referral; Please include your state and county in your request.
See also free legal.
Info for lawyers

"…legislators have begun to accept the evidence of the importance of companion animals to a significant number of people.
In interpreting [recent] laws, judges need to be sensitive to the growing body of literature that supports
the health benefits of living with companion animals."
The U.S. Department of Housing and Urban Development memo to FL fair housing enforcement officers and regional counsel
HUD regulations ARE the law in Florida condos.   In other words, there is no need for an emotional support animal law.  HUD Fair Housing regulations apply to condos, too; Fair Housing law generally covers any housing with more than four units.
What If You Are Asked to Remove Your Companion Animal(s)?  
If the rules have changed after you already have a companion animal in your home, you should be protected by a grandfather clause,
according to the State of Florida Condo Ombudsman.Unfortunately the only other thing you can do at this point in time,if you qualify, is to get a "doctor's letter" asking to have an emotional support animal as a reasonable accommodation.
Be sure to call your animal an emotional support animal and NOT a pet.
FHEO Notice: FHE0-2013-01: "An assistance animal is not a pet."

The Americans with Disabilities Act defines both physical and emotional disabilities.  A disability is defined as a physical or mental impairment that substantially limits one or more major life activities.
Both emotional support and service animals can be prescribed by your doctor or therapist.
A dog can be both. See definitions of types of assistance animals HERE.
If you get a written response from your association board denying your right to have your ESA in spite of the doctors letter, there are agencies that will help you fight for your rights. See free legal.   Send your correspondence via certified mail (an option you can choose at the post office.) When you send a question via certified mail, the association and its representatives are required by Florida law to respond. Other
states may differ.  (per Cyber Citizens for Justice)
The doctor does not need to state the person's disability – only that the person is disabled and what life functions are limited by the disability.  The doctor must explain why the accommodation is necessary.- If you believe you are being treated differently or unfairly based on one of the protected classes under the Fair Housing Act (race, color, sex, national origin,religion, disability or familial status) you may file a complaint with this agency.
Once a person has been allowed an assistance animal, the Association may within a reasonable time request the person to provide a letter from his/her doctor.  The only exception to this is if in the original letter the doctor stated that the disability is permanent.  For instance, a guide dog for the blind does not need to bere-certified. 
Usually, the only persons to be re-certified are persons with emotional support animals. The re-certification cannot take place every year.  However, every 5 years is not unreasonable.
Here are a few other things that MIGHT help your case:
Ask your neighbors to write to the association board to say they are not bothered by your pet(s).
Create a pet resume to help make the board feel more comfortable about your pets.
The Society for the Prevention of Cruelty to Animals tells you how to create one.
With difficult association boards you may need to get your dog certified as a trained service animal (animal is certified to be trained to do a specific task to assist a person with a disability):
Contact us for a referral for help getting your animal certified. (Remember that emotional disorders count as disabilities per the Americans with Disabilities Act.)  This extra step may make it easier to get approved, but certifying a dog as a service animal is NOT required by law, since fair housing law does NOT require proof of training.
Recent ADA modifications only allow dogs as service animals, but other kinds of animals can be emotional support animals.
Another line of defense to consider is whether the no-pet rules in your association have been properly recorded and legally filed with the county where the development is located.  Whether a condominium records its restriction on pets may be an issue as to whether the restriction is legally enforceable and you should consult with an attorney regarding this issue.If other people in your building/association have pets, you can claim the affirmative defense of selective enforcement of the rules.
Gary Poliakoff, former head of the Becker and Poliakoff law firm that services thousands of housing associations in Florida, lists various defenses can fight a belated 'no pets' restriction.  He includes selective enforcement, and/or "latches" and "estoppel" (which relate to timeliness of enforcement or waiver by action.) He also mentions trained service animals being allowed for the handicapped (but fails to mention emotional support animals.  See our success stories for cases where emotional support animals have been allowed.)
Attorney Herb M. Milgrim says, "The defense of laches is applicable when the association's inequitable conduct, lack of diligence,
delay, and inattention to pursuing enforcement of the pet restriction occurs.  What this means is that if you walk your dog past
a board member every day for a year and then all of the sudden you get a letter seeking to enforce the pet restriction you may
be entitled to raise the defense of laches to overcome enforcement of the pet restriction". – http://floridacondoattorneys.com
Help Me Howard once explained about estoppel:
"Howard, the condo documents say you can't have pets, but the rule has never been enforced. Can the board suddenly change its mind and force owners to get rid of their animals? Howard Finkelstein, 7 News Legal Expert: "No, they can't, because of what the law calls 'estoppel.' In other words, since the association never enforced the rule, they cannot suddenly make the residents get rid of their pets. Now they can ban residents from getting pets, but the residents who already have them can keep them until they die."
Actions and speech which coerce, intimidate, threaten, or interfere with any person in the exercise of, or on account of her or his having exercised, or on account of her or his having aided or encouraged any other person in the exercise…"of their rights to reasonable accommodation is unlawful.  Appropriate administrative or civil action may be taken.
(PART II FAIR HOUSING ACT, 760.37 of the Florida Statutes).
If a doctors letter is rejected by a board or their lawyers, you can sue them for discrimination, with potential
fines in the $$thousands!  (See Florida Statutes Sections 413.081, 775.082 and 775.083.)  Board members and lawyers
are not trained medical professionals.  They should  not decide who needs or would benefit from animal
companionship. 
"As an attorney that specializes in animal law I am frequently contacted by citizens that are being harassed and intimidated
by homeowners associations or condo boards-even though their animal is not bothering anyone and has been prescribed by
their health care provider.  In fact the intimidation by the condo boards aggravates the very condition the animal is intended
to alleviate. Of course the associations and boards have far more resources to fight these petty battles, and are often successful in forcing someone to move or give up an animal that is their life line because the pet owner has neither the money or emotional stamina to fight the associationA's  lawyers."
— Marcy I LaHart, Esq., www.floridaanimallawyer.com, legal advisor for Citizens for Pets in Condos."
Emotional Support Animals – Don't Let Your Association Step In It!,
Rembaum's Association Roundup, by Jeffrey A. Rembaum, Esq.
scroll down to the 9/17/2014 article
Citizens for Pets in Condos recommends:

Marcy LaHart
www.floridaanimallawyer.com
352.224.5699Attorney LaHart has handled 40 to 50 cases involving residential boards and prescription pets over the
last four years.  Her clients are prescribed pets for chronic depression, epilepsy, cancer, Alzheimer's disease, autism and anxiety, among other "handicaps." Every one of Ms. LaHart's cases has ended in her client keeping their pet.
Her favorite cases end with residential boards writing the check for her legal fees. Ms. LaHart has four dogs and two cats." – It's a Dogfight, by Athena Ponushis, 5/26/2011, Palm Beach Gardens and Jupiter Florida Weekly.
Matthew W. Dietz
Law Offices of Matthew W. Dietz, P.L.
2990 Southwest 35th Avenue
Miami, FL 33133
Tel: (305) 669-2822
Fax: (305) 442-4181″The fair housing act permits any type of animals that are necessary for the equal use and enjoyment of a person with a
disability.  This includes a menagerie of any animal that can be imagined, if that animal does not pose a threat or
danger to others.  This includes animals which aid persons with anxiety or depression."
Herb M. Milgrim, P.A
http://floridacondoattorneys.com/
4040 Sheridan Street
JOE DIMAGGIO BUILDING
Hollywood, FL 33021954 966-3900 or 954 966-3909If you or somebody you love has a service animal or emotional support animal and your Condo Association or
Homeowner Association has not made reasonable accommodations for you or worse, is trying to enforce Pet
Restrictions that don't apply to your animal,  you need to contact us to discuss your rights.  In most cases you
could be entitled to damages, as well as, reimbursement of your Attorney's Fees and expenses.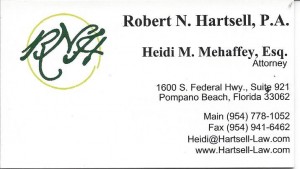 The Law Firm of Justine A. Mikolaitis PLLC
An Animal Law Practice
http://www.mikolaitislaw.com
(305) 503-5391
Find members of the Florida Bar Association Animal Law Committee here.
You can also arrange an Individual tele-consultation with Dr. Joyce Starr. Eliminate the toxic stress of your condo or HOA board battle.
Discover step-by-step solutions for problems before they become legal nightmares.
Protect your home, hearth and health.
If you need to hire a lawyer, we suggest you contact one of the members of the Florida Bar Animal Law Committee
or, if you have a disabling condition, contact an attorney who specializes in disability cases.
Contact us for a referral to an attorney with experience in pet cases.
"Although they may present no outward signs of a disability, those who struggle with mental health concerns such as anxiety, depression, and phobias experience legitimate debilitation. Emotional Support Animals have proven effective in mitigating many symptoms of mental health disorders. Emotional Support Animals are not required to perform a specific task, thus making them different from service animals.,"
— Kristy R. Becraft, MS, LMHC, Healing Through Animals from letter to the editor published in Dog Fancy
magazine, August 2012.
This pretty kitty is an "emotional support" animal.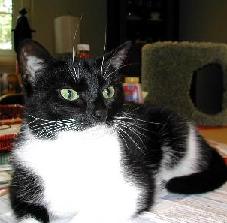 Kitties' guardian is a stroke victim, plagued by a resulting emotional side-effect that makes her break out crying and turn bright
red from stress.  This little baby helps her maintain her calm and avoid another stroke.
Emotional support animals are a type of assistance animal for aiding people who have mental health/emotional disabilities
or who have emotional components to serious physical conditions.  For instance, a study by the World Health Organization
found that people who had arthritis, diabetes, angina, or asthma were more likely to suffer from depression than people without
these conditions.
Click here to read the legal opinion in this case, from a disability lawyer.
Read more about the benefits of having pets.
Read Why Medication is NOT the Only Answer to Treating Mental Illness