Action Items
We are proposing: the  Simple Majority Bill – to make it easier for condo owners to vote to allow pets
Sign the petition to ask legislators to vote in the simple majority bill – "Petition To Change No-Pets Allowed Deed Restrictions Using Only 51% Majority"
---
Click here to "Like" us and join our group on 

follow us on

Get updates via SMS by texting follow PetsInCondos to 40404 in the United States
---
Wear your Citizen for Pets in Condos t-shirt and drive around with a Citizens for Pets in Condos bumper sticker.
Bring your furry friends to dog events in their Citizens for Pets in Condos dog shirts .
Work on getting pets allowed in your own association-run housing complex. We have tools to help:
See our handout  – creating a pets accepted community (2-sided, 2 per page)
See samples of reasonable pet guidelines (to replace no-pet deed restrictions), and ways to deal with pet nuisance issues.
One way to start is to connect and meet with other pet owners/guardians and other pet lovers in your community,
and keep the group together as a pet committee once you get pets allowed.
Spread the Word with our handouts:
---
We are looking for sponsors in the Florida State House and Senate for our new legislative effort:  Require Only a Simple Majority to Change Pet Rules.  Read a dreaft of this proposed bill here – http://www.petsincondos.org/draft-simple-majority-bill/.
If you live in Florida, please contact your Florida state-level representative and senator.  Tell them you would like them to sponsor a bill to require only a simple majority to change pet rules in condos (and other types of association-run housing). Tell them YOUR story and add that the Florida housing market will be helped by passing this bill.
Sample letter to legislators about the Simple Majority bill . (Feel free to add comments about your own situation.):
Dear Representative/Senator ___________:
Please sponsor and support the Simple Majority bill which will make it easier for communities to vote to allow pets.    Hundreds of thousands of perfectly adoptable animals are being euthanized while there are people who would do anything to be able to take them in and care for them. The bill says that only 51% of unit owners need to vote to allow pets (rather than the default 75% and sometimes higher requirement).  The bill includes provisions to help reduce pet nuisance issues.  A full draft of the bill can be found at http://www.petsincondos.org/draft-simple-majority-bill/.
Sincerely,
full name and address
---
At the federal level, write to your US Senators (two for your state)*, your US Representative**, and the President***.  Tell them that you want to see changes to allow all Americans to have animal companions as long as they are resonsible pet owners/guardians.
*go to http://www.senate.gov/general/contact_information/senators_cfm.cfm, then choose your state from the drop down box.
** go to http://www.house.gov/ and fill in your zip code plus 4 in the upper left to find your representative.  When the answer comes up, click on the link for your representative and follow instructions on the site for contacting him/her.  Don't know your full zip code?  Go to http://zip4.usps.com/zip4/welcome.jsp to find it.
*** send an e-mail to president@whitehouse.gov
---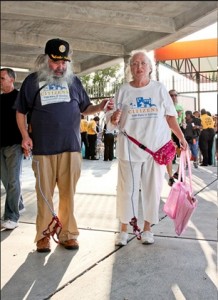 Maida and her husband at the 2010 Bark at the Park, wearing Citizens for Pets in Condos t-shirts and holding "invisible leashes."
They were demonstrating not being able to bring a dog (because they are not "allowed" to have dogs).
People laughed, and enjoyed the "joke" – but the point was made.
Imagine the impression we would make if 30 people showed up with Citizens for Pets in Condos t-shirts,
with dogs or with-out.
Help Us Help
Make a tax-exempt contribution.
==========================
Donate through Network for Good
Donate through First Giving
Donate through Just Give
Donate through Change.org
================
Donations by check to "Citizens for Pets in Condos, Inc." can be mailed to
PO Box 26071
Tamarac, FL  33320
info@petsincondos.org
954-366-4555